FIN Accounts
More than just money
---
You think FIN, you think money. You make the money so that everyone else can spend the money. Our thrust? Financial efficiency. Financial awareness. Every year, we have the best set of managers spearheading the various efforts of the department. As project managers, you are the lifeblood of FIN — the backbone of Celadon.
You stop. That sounds heavy.
"FIN, to me, was my venture into a department I barely had any experience in. Going into FIN was definitely something that scared me, but the FIN EB were always ready to help out whenever my partner and I were not sure what to do. Through my stint as Merch Sale head, I learned how to work through the year on a single project that didn't have an event or date dedicated solely to it."

-Jerome Mejarito, CLDN Merch Project Head 2016-2017
A challenge. Interesting. And the thing is, FIN is more than just the money.
"FIN is where I got the opportunity to learn not only how to raise funds, but also how to make a special day like Valentine's Day extraordinary for the people around us ❤"

-Raenelle Ngo, Rose Sale Project Head 2015-2016
It's about serving the people and seeing so much untapped potential, that you go out and do all you can. The scale and the bar set can get crazy, no kidding. And sacrifice is something that you may have to expect.
"Rose Sale was my first ever project I applied for in Celadon, and being a core member of a FIN project had struck me with inspiration to join again the next year. I never regretted spending my leisure time with FIN.

Because I was new to Celadon that time, I was anxious to interact with others. However, thanks to the interview portion of the core application process, I learned how to set aside my shyness and open to others. Whenever we remember those days, we just laugh at how we managed to have the energy to interview people all week long. That was insane and fun.

Despite the huge responsibility as a FIN manager, the guidance of the EB never faded away. Bayanihan during the event gave us strength not to lose hope and [to believe] that we would overcome anything. Thus, among the unexpected challenges we have encountered, there is one lesson that I will carry all throughout the years: FIN earns profit but never sacrifices love and camaraderie."

-An-g Obviar, Rose Sale Project Head 2016-2017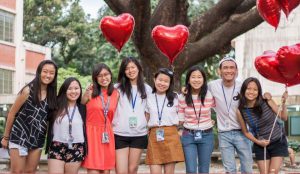 But that's okay. You keep moving forward, and you think, I can do more. I want to do more.
"Being a FIN manager during my sophomore year was definitely a leap of faith as much as it was hard work. When I got accepted as Rummage Sale co-manager together with Aldwyn (Tan), we decided that we wanted to organize a bazaar instead of a rummage sale, since it was more fun and we're sure to earn more money that way.

Back then, there weren't as many student organized bazaars as there are today, so it was definitely a challenge for us to start from scratch. We had to do research on how to craft the concessionaire packages and learn the ins and outs of bazaar operations. There was no template for us to follow. But we had a specific goal in mind – to establish a profitable and sustainable revenue-generating project for the years to come. And I guess we did just that.

FIN definitely has a special place in my heart, not only because I stayed in the department as manager, AVP and VP, but because it has given me the opportunity to experience, learn, and grow in ways I never thought was available to an org like Celadon. It's no secret that you will face a lot of headaches and frustrations when it comes to organizing bazaars – from unresponsive suppliers to pabebe concessionaires. The hardest part I guess is when you start to doubt yourself if you can really follow through with the project, with all the ups and mostly downs you face. But was it worth it?

Definitely! The rewarding feeling you get when you see the bazaar goers flock to your concessionaires is unlike any other. Seeing the core team bond and laugh together during ingress and egress and throughout the bazaar program is enough to make you forget all the pagod and luha you sacrificed for the project. At the end of the day, I wouldn't trade that feeling of fulfillment when I pack up and leave the venue after egress for anything."

-Irish Tolentino, Santa's Attic Project Head 2014-2015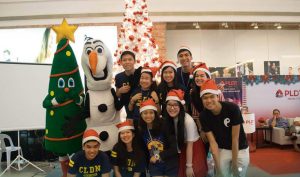 More than what you want to happen and what you make happen, you get to share the joy of working magic in Celadon in your own way with your partner, your co-project head – a person you can trust and not hesitate to dream big with, someone who will be with you every step of the way.
"FIN is where my Celadon journey really started. Being a manager of the FIN Department two years ago was when I first started feeling being part of a bigger family, which is FIN in Celadon. I was first assigned as the co-project head of Rummage Sale back in 2015, but FIN allowed Irish (Tolentino) and me to be more innovative and dream bigger.

We encountered a lot of challenges then, but I really owe it to that experience for making me realize the importance of hard work, taking responsibility, being resourceful, and being quick to think on my feet. Heading a project (Santa's Attic Christmas Bazaar) is not as simple as giving the core a list of things to do. It involves careful deliberations, making tough calls, delegating tasks fit to each individual's strengths and weaknesses, and more importantly seeing your core grow as they reap the fruits of all your hard work and dedication to the project you committed months of your Celadon journey to. And I think there's no greater fulfillment than to look back and realize that the project that was just a mere idea before is now on its fourth year and there are more and more Celadoneans wanting to take part in it."

-Aldwyn Tan, EVP 2016-2017, VP FIN 2015-2016
So what's next? What's the challenge for you?
"Being in FIN has taught me to be a wiser person – that is to be patient during adversity yet relentless for excellence. But I guess you'll only really know what I mean when you take that leap of faith as well just as I did, yeah?"

-Irish Tolentino, VP FIN 2016-2017, AVP FIN 2015-2016
Fin.
Written by Matthew Yu, Nadine Laurel, and Katreena Chang
Photography by Joshua Cheng, Robert Cuartero, and Geela Garcia
---
Here is the Celadon Manager Application Kit for A.Y 2017-2018: https://tinyurl.com/ManagerAppKit2017-2018
The Executive Board are excited to work with you!
Deadline for Applications: June 25, 2017 11:59pm
If you have any inquiries, don't hesitate to contact us through [email protected]