With a day left for this wave of core team applications in Celadon, the member may wonder: "I want to be part of something that has an impact, that means to people. But where do I start?" More often than not, we notice the familiar celebrations because they're what we're used to. With that, check out the following projects that have as much substance that you might not have heard of.
Ateneo Celadon Cultural Experience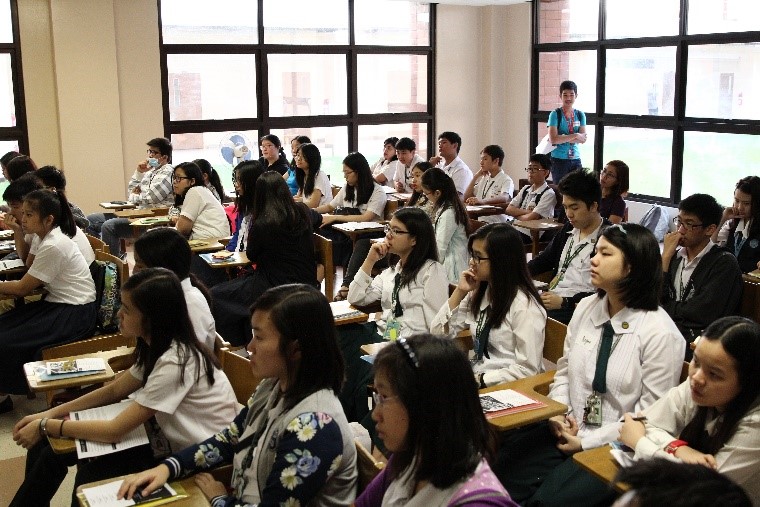 People may not be familiar with what ACCE is when they first hear about it, but it's actually the combination (and so much more) of Strokes and Strikethrough.
According to Strokes' project heads last year, Janelle Ormoc and Sheena Chua, "The ultimate goal of Strokes is not only to allow students the opportunity to channel their talents in arts and calligraphy, but also to keep the Chinese tradition alive by practicing Chinese arts and calligraphy through the youth. This project brings out the creativity of students, with the hopes of influencing the Chinese-Filipino community to do the same."
Leyah Dizon, one of the Strikethrough's project heads has this to say about it, "Journalism really can have a huge effect on people. It can end up touching so many people's lives and revealing many truths. The Chinese-Filipino culture is not as well known as many people think. Only the Chinese side is usually seen, and journalism may help in bridging the two cultures together. This event managed to help convene this message to all its participants, and that is why it is so fulfilling."
These predecessors of ACCE introduce Ateneo Celadon to aspiring Chinese High School students and show to them the relevance of art and journalism in representing the culture in today's society. What ACCE changes now is an emphasis on the relevance of communicating culture, packaging crafts such as calligraphy, feature writing, layout design, painting and more into a series of workshops and contests.
Imagine an event greater than a sum of its parts. It's going to be a whole day filled with learnings, fun and laughter!
Find out about more of the past events that make up ACCE:
Celadon Night Live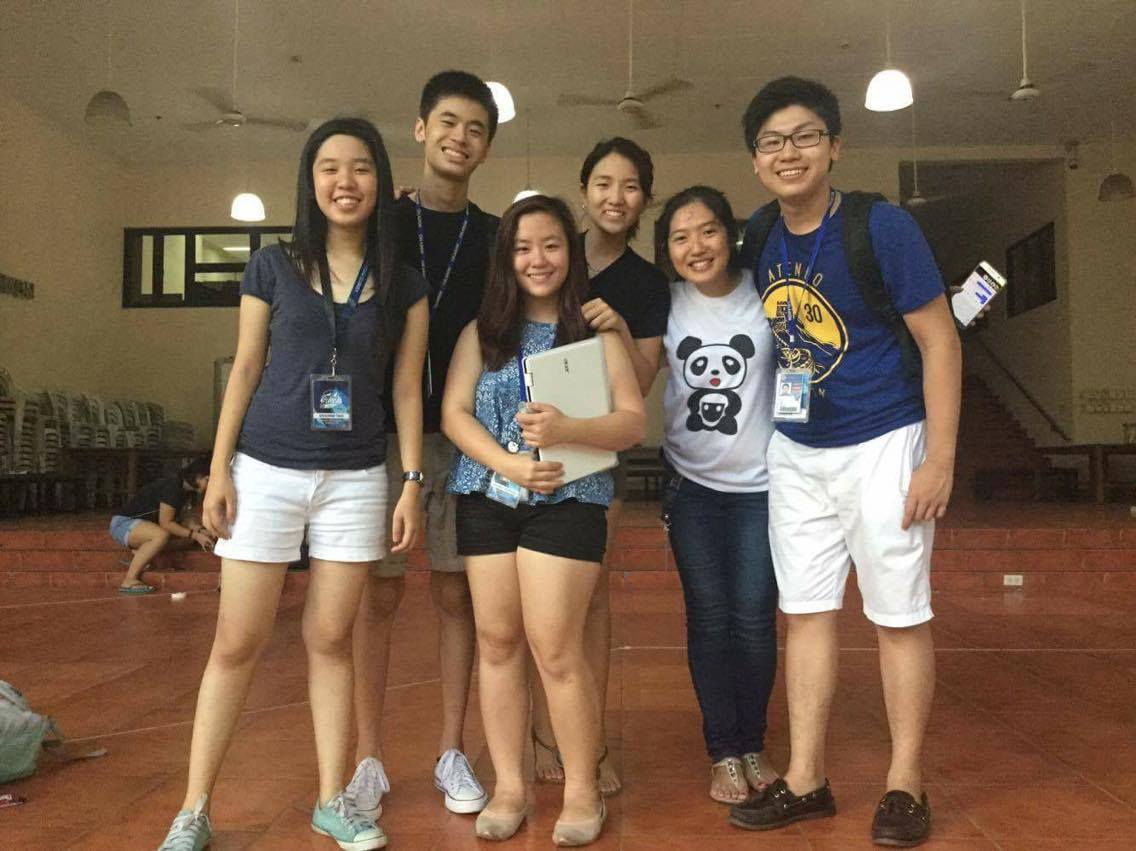 No one should feel lonely and alone. Here in HR, we're looking to make a Celadon Night Live (CNL) that shares culture and makes memories. We believe in making CNL the best hohol of the year.
Most people often think of a hoholas something that has no meaning whatsoever. However, CNL is not your typical kind of hohol. A hohol should have substance. If it doesn't make a lot of people feel good about being together, then it's not a substantial hohol yet alone a hohol. It should make the camaraderie among a set of people happen.
Everyone always looks forward to the weekend, for a chance to take a break from school, and just not worry about requirements for once. Saturday night, most especially, is the perfect time where everyone can meet, hang out, and spend time in other people's company. CNL finds a way for Celadon members to do just that—to spend time with people you call family with the feeling called home.
With CNL, Saturday nights will get a little bit more substantial with the company of others. Working can be hard, but relationships with others can be harder. We want everyone to be a part of the family they can call home, and you can make that happen.
REACH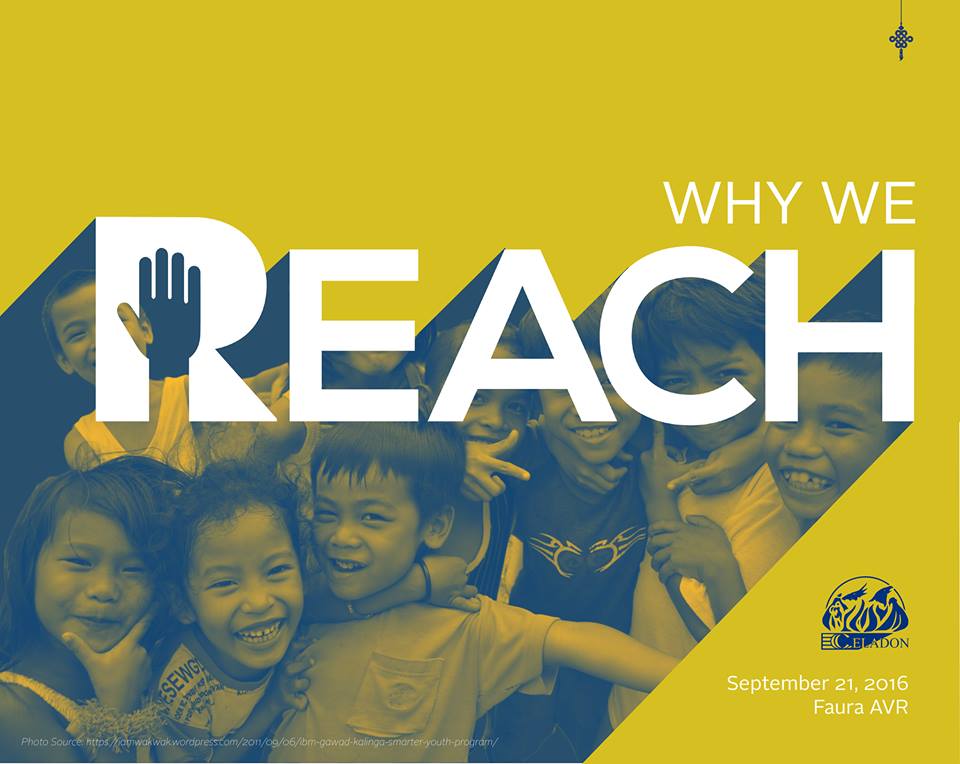 R.E.A.C.H. (yes,it's an acronym) stands for Responding to Encourage Action towards Care and Hope, and if that is too much to take in, we can boil it down to one word: Outreach. R.E.A.C.H. is a four-part outreach series that serves as a way for this organization to give back to the community the way Celadoneans know best—through sharing our culture. This project also allows the organization to grow as a family, extending this familial love towards other communities who needed it the most and form long term bonds with them.
This year, through the partnership with Gawad Kalinga Ateneo, the organization will cater to the kids of Pinag-Isang Palad Community in Commonwealth, and if you haven't had that chance to give back and put a smile on those cute little children's faces for once in your life, then our very own Dr. REACH suggests that you try to do so. However Dr. REACH wants to warn you about something: the kids will put a smile to your face first before you do on them!
Some of the highlights include: cooking tutorials, where the kids and adults of the community get to make a particular Chinese delicacy; Gawad Kalinga's Christmas Carenival, a Christmas-party-like event filled with tons of games and activities; Chinese New Year Food Festival, where the community gets to taste some popular Chinese New Year dishes; and our culminating activity, filled with various educational workshops such as basic Chinese conversations, Chinese arts and crafts, and many more!
Still iffy about REACH-ing (see what we did there) this one-of-a-kind-super-duper-awesome-times-one-million-to-the-infinity opportunity? Then maybe our very own super-duper-awesome member Ervin Llobrera's experience during the last R.E.A.C.H. that might give you the insight that you need:
"Basically I heard about R.E.A.C.H. when our head of DocPub Joshua Cheng was asking for some volunteers to cover the event last school year, and I thought to myself, 'Why not?' since I was a scout officer back then in high school for a few years, and outreaches were part of that job in which I really enjoyed them. However, I was hesitant at first because I didn't know who were going, and if there will be any transportation that would be provided for us.

"Later on I realized that everything is taken care of for the volunteers. In addition, I also tried inviting my friend along, and he agreed to go. Thus, I went to three out of the four sessions of R.E.A.C.H. to document the outreach, and the kids were really hyper and excited to greet us since they already knew the Celadon outreach team really well at that time. It was kind of tiring to handle the kids because they are all running around the place, but it was really fun and meaningful at the same time because you know that you're bringing smiles to their faces with all the activities that has been prepared for them."
Want to know more about REACH? See more articles of the past ones:
Written by Christian Tiu, Colleen Gatchalian, and Himig Marcos.
Artwork by Jazel Khu.
---
See the primer at http://bit.ly/CTAWave2Primer
Sign up at http://bit.ly/CTAWave2
Deadline for signups is on SEPTEMBER 18, 11:59PM.
For inquiries, e-mail them to [email protected]rg