Written by Ehry Chua & Charmaine Co. Edited by Matthew Yuching and Denise Joaquin.
Photo Header by Bruce Ong.
*For price indications, the second price is the budgeted price from 11am-5pm, Monday to Saturday
In a small alcove right below popular Katipunan drinking places Taco Joe's and Walrus, lies a humble restaurant called Krispy Tomato Brick Oven Pizza (commonly known as "KT"). Opened in July 2017, this establishment is the brainchild of a brilliant couple, Paula and William Lee. With a desire for a stable livelihood, the couple moved from Singapore and back to the Philippines to open a restaurant geared mainly towards the students from Ateneo de Manila University, Miriam College and the University of the Philippines-Diliman. They serve various European-influenced dishes such as pizza and pasta with their own KT twist.
It would not be unusual to be greeted by the sight of guests jamming to popular hits at the open mic. Looking around the restaurant, your eyes would be drawn towards the brightly-coloured lights sparkling on the Christmas tree, as well as a table full of fun games such as Monopoly Deal, Jenga, and Bad Dog next to it. The warm, ambient light creates a homey vibe that makes one feel comfortable and at ease.
Now, for those who want their own affordable yet filling meal, the restaurant offers five different KT Meals (₱119 to ₱199) each containing various combinations of the following: Krispy Tomato Fried Chicken, Margherita or Manhattan pizza, one cup of rice, Caesar salad, fish fillet, or even your own choice of pasta-Grilled Chicken Alfredo or Spaghetti Bolognese. Each KT Meal is also served with a cup of iced tea. We have to say, though, that the Grilled Chicken Alfredo is a must try, with its tastefully creamy sauce.
Of course, if you and your friends just want a place to enjoy some chicken wings, Krispy Tomato's got you covered! With KT Chicken Wings, you can enjoy either 6 pieces (Normal: ₱199, Budgeted: ₱139) or 12 pieces (N: ₱350, B: ₱249) of chicken wing goodness. There are various flavors to try such as Garlic Parmesan with a perfect parmesan-chicken ratio which complements the chicken instead of overwhelming it. Another flavor is the Sriracha, which is perfect for all the spicy enthusiasts out there; or if you're not a fan of the mouth-burning sensation of the Sriracha, why not try the milder twist of the Classic Buffalo wings that tastes as good as it sounds.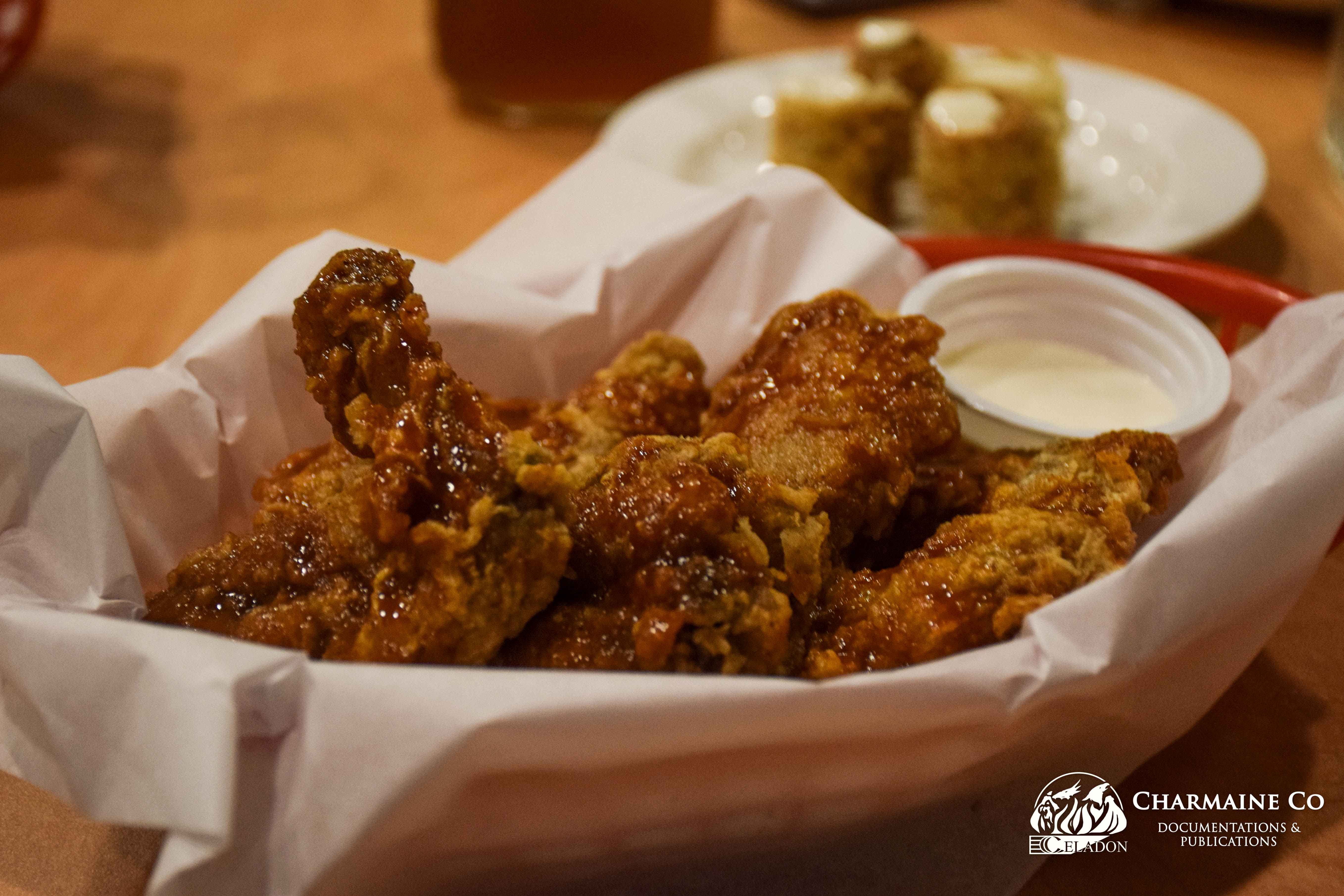 While waiting, you can have a little bit of extras on the side with some mojos (₱99) and nachos (₱129), and though the chips may be a bit on the stale side, the dip surely makes up for it.
Although different from the usual, Krispy Tomato also serves their customers the Blueberry Ricotta (N: ₱399, B: ₱349), a pizza dish peppered with bacon, olives and two different kinds of cheese: Mozzarella and Parmesan. And as the name clearly suggests-blueberries. It serves as a different twist from the usual salty taste that pizza often has, as the sweetness of the blueberries complements the saltiness of the cheese. With the thin crust veiled with maple syrup, the dish gives off a breakfast-like taste. No wonder it's Krispy Tomato's signature dish.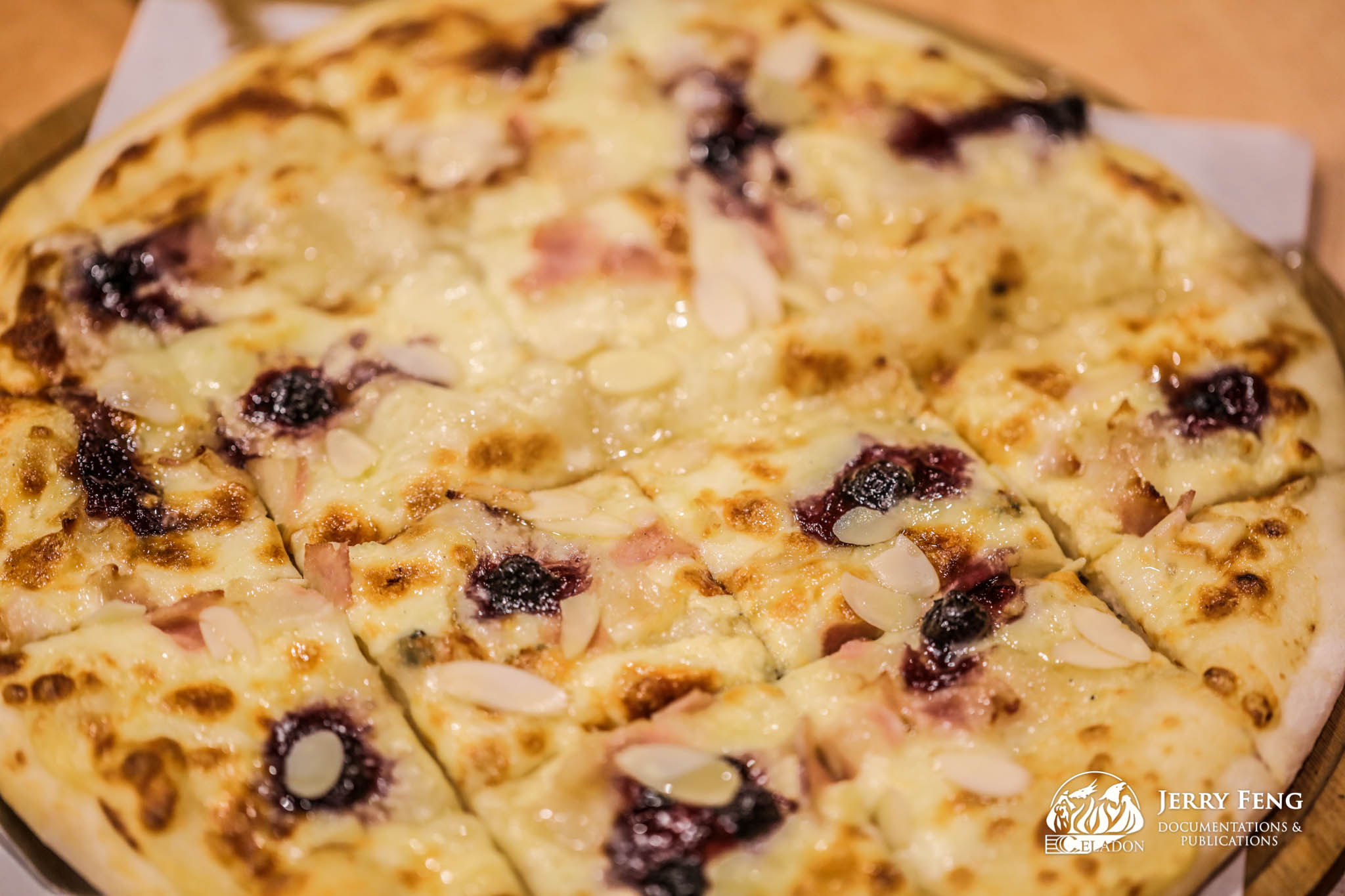 The next time you're looking for a homey, comforting, and casual dining place with decent prices, Krispy Tomato is the place to go-an underrated hole-in-the-wall you're bound to go back to.

Get more updates by checking out Krispy Tomato's Facebook page!