Director Chi Ngai Lee puts a Chinese twist to the great capers of the 50s with this fast paced action-comedy.  A heist comedy film, Horseplay mainly follows the story of amateur journalist Mui (Kelly Chen) seeking to prove herself on her first story while washed-out police detective Cheung Ho (Ekin Cheng) attempts to track down down the suspect of the theft of the prized Sancai horse figurine, the elusive Nine Tails (Tony Leung Ka-fai), an artifact thief known for his comical disguises.
One of China's most precious artifacts mysteriously disappears into Europe's underground auction markets, leading to a frenzy of quirky characters and archetypes going out into the streets of London and Prague in search for the treasured horse. It's a premise that has been done before, and the movie never goes into new territory.
One noticeable issue with the plot for instance is the lack of any real weight. At the onset, Nine Tails already turns out to be a good guy who is willing to help Mui get the stolen figurine. Yes it is a comedy, but for a movie that is expected to deliver good thrills or mysteries, the absence of a clear villain or an element of opposition creates a clear lack of urgency or investment with the struggles of these characters. Although the latter half of the film does have Mandy Lieu play twin assassins hot on the heels of Nine Tails, she plays too minor a role to provide the plot any real enemy to go against. Every heist or hurdle was easily glossed over through some deus ex machina or through one of Nine Tails's special tricks or skills.
Instead of a villain, the film mainly followed through Mui and Nine Tails's plan to find and bring back the Sancai Horse, with Cheung Ho trying to chase down his arch nemesis. With this, Chi Ngai Lee makes it interesting by keeping chase sequences fast paced and dialogue lively. Even in scenes that have been shoehorned to pander to the world's biggest tourist market, the director keeps it interesting. For example, in a long scene in the middle of the film where the characters have to go through a maze in Prague filled with colorful puzzles, each character plays off of each other's lines and makes full use of the tourist attraction that they're in. It can itself come off as cheesy to some viewers, but at least scenes like these are well integrated into the plot and do not feel forced into it merely for advertising's sake.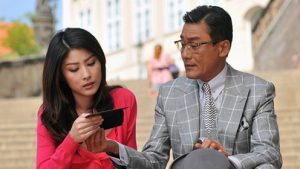 Another good point of the film was how each character, major or minor, in the movie was quirky and interesting enough to carry the story. Boasting a tight cast of well-seasoned Hong Kong actors and comedians, each member had their own quirk that made them memorable and complementary to each other. Comedians Eric Tsang and Wong Cho-Lam stole the show as two appraisal experts who possess wittier banter than your average Asian comedy. Both Ekin Cheng and Tony Leung Ka-Fai had the presence and comedic timing to play cat and mouse, and Kelly Chen was relatable in her struggle to be respected as a real journalist.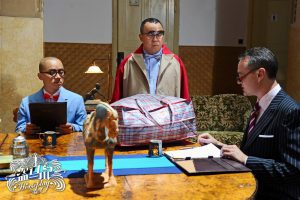 At the end of the day, if you're a treasure hunter looking for the most exquisite and treasured movie in all of China, then Horseplay plays too safe for your liking. However, it is said that the journey is better than the destination as it offers a funny script, likeable characters and breathtaking scenes of Europe at its finest. It is good if you know what you're looking for.
Written by Lucas Po