The External Affairs (EXT) Department features projects that you don't typically associate with a Chinese-Filipino organization—outreaches, gatherings and even a massive amazing race. And yet, these projects exist to help further integrate Chinoys into the larger Philippine society, expose them into various cultural and social realities, and enrich what it means to be a Chinese-Filipino today. And this year's EXT executive board (EB) members—Himig Marcos, Benson Tan and Leyah Dizon—are making sure that they've injected all these projects with fervor, flavor, and fun.
Himig Marcos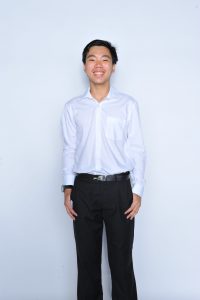 Joel Lim (JL): Why did you decide to make the jump to VP?
Himig Marcos (HM): Trip ko lang, de joke HAHA. At first I wasn't really sure about running for VP—I thought about everything. I really enjoyed doing what I was doing as External Affairs AVP, and I really wanted to do more for Celadon, but on the other hand, I had my fair share of screw ups and insecurities that led me to wonder if I was really fit for the position. I decided to ask around about [the] others' opinions. Through these IC's I was really enlightened and encouraged to run as one of the more experienced [members] in the department. So I decided to take [a] leap of faith and see where it [would take] me. I told myself that it was meant to be…and it would be an opportunity to make up for my shortcomings before and to do much more. Elections came and went, and here I am, thankful and happy!
JL: Describe your current External Affairs family.
HM: I would describe the current EXT family as an EXTraordinary Family (actually name yun ng group chat namin). We are a family within a family that supports, encourages, and accepts each other. Within the EXT Fam, we can talk about anything (usually our love lives HAHA JK), and though we have our ups and downs, we make sure that every experience at least builds our characters and our relationship with each other.
Pero grabe talaga. If only words could express how much I love and am proud of EXT—edi I'd use them (haha kasi until now no words can describe this feeling eh HAHA) I've actually told some [of them] the following: "Ok, in the most NOT CREEPY WAY, I love you guys so much that I'd want to shrink you all to stuffed toys and display you in my room to keep with me forever!"
Context: I love stuffed toys
Further context: parang this means lang na I'd love to have them around with me for the rest of my life!
JL: What would you advise those who are planning to run as External Affairs EB in the future?
HM: Hello, friends! You have a big task up ahead [of] you! You'll face some nights where everything seems to have a problem, and you'll find yourself thrust outside your comfort zone. But at the same time, you'll find yourself meeting more and more people both inside and outside Ateneo (Aside from Celadonians, I've met some of the greatest and nicest people from AFiCS orgs, other Ateneo orgs, and even those based in Binondo, or even Taiwan!). You'll also find a great learning experience here with the best managers, co-EB, and members you'll ever find! Best of all, you get to create meaningful bonds with organizations and see the fruits of your labor culminate in a project or two!
If this sounds fun, wait til you do it for real! And remember, when you're an EXT EB, remember the following:
Have fun, and don't forget to chill – It's always twice as meaningful when you're having fun with what you do, but also don't forget to rest and keep a level head, especially when things are weighing you down.
Share what Celadon is about, and always be open to others as well – more than just partnerships, I'd like to see more relationships bloom in the future.
Always believe in yourself – as the torch gets passed on [from] generation to generation, only you can take External Affairs one step further, make the most out of it!
JL: What would you miss the most about the org and the External Affairs department?
HM: I guess what I'd really miss [the most] are the people. The people are [the reason] why I really got into Celadon, and I [completely] owe it to them [that I get] to do my part for the org. And in every experience that I've had in Celadon, the people have definitely made everything easier, more fun, and certainly more interesting!
JL: What's your favorite Celadon memory?
HM: I won't ever forget this year's Binondo Amazing Race. BAR has always held a special place in my heart. I've been with it every year of its existence and it has been with me for my whole Celadon journey. What really pulls on my heartstrings, and is the sweetest moment of BAR, isn't actually the project itself (the project was still pretty darn solid!!), but the last few days leading up to it.
The Friday and Sunday before BAR (BAR was held on a Saturday and Monday is year), the Stay Tuned gang composed of the managers, EB, and core met up to make the final preparations for the project. In those hours of preparation, we had done the necessary preparations, while at the same time bonded with each other. There were some members that I'd only really gotten to know there. All in all we had a great time and we felt like a really solid barkada afterwards. Although I got home at 1am that Friday night, I was pretty fulfilled because we managed to get everything ready, and I already knew that BAR was going to be awesome. Seeing the project for the last time in my college life and hearing the good feedback [then] was the cherry on top!
JL: If you would describe your Celadon journey in one word, what would it be, and why?
HM: Candlelight—I remember saying last year, that leadership was like lighting a candle in others' hearts and being fulfilled by seeing them light more candles. Well, for my Celadon journey, it has been an overwhelming parade of lights all around me (think: lantern scene of Tangled). And this light doesn't just come in the shade of leadership. It also extends to love, passion, care, and a lot more! Celadon has lit a light in me, and the 1000+ members I've seen in the last four years: that'll last a lifetime. Seeing all this light around gives me great hope for the future, and that's great!

(HAHAHA also, candlelight… eto rin actually yung gusto kong date HAHA JK)
Benson Tan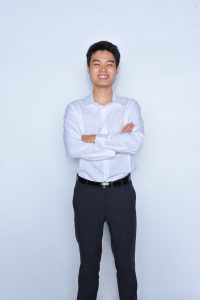 JL: What made you ultimately decide to go for External Affairs?
Benson Tan (BT): The strong sense of family inside the Celadon community has always attracted me to the organization, and I think a lot of people also stay for the same reason. I love the community of people inside Celadon and I've found that being part of the External Affairs department is a gateway to expand this community beyond the confines of Ateneo.
I went for External Affairs because I wanted to establish better ties with the Chinese orgs of the other big universities—UPCSA, DLSU EngLiCom, and UST Scarlet. Through the Alliance of Filipino Chinese Students (AFiCS), we have seen good progress in terms of building better relationships with these orgs. We're getting there, but certainly there is still a long way to go.
JL: Describe your current External Affairs family.
BT: I can say that the current EXT family is a group of driven individuals. There's a running joke in the department that everyone always has so [many]much things on their plate, and I can say that this is more or less true. I'm proud of our managers because they each have their own unique strengths and personality. And to be honest, this makes them quite an interesting bunch to be with.
JL: What would you advise those who are planning to run as External Affairs EB in the future?
BT: Beyond its projects, EXT is about establishing relationships. We are always in the business of reaching out and meeting new people, not just outside the organization but also inside Celadon as well. I think it's important to internalize this. Also remember to support our Chinese-Filipino counterparts in the other universities and, of course, enjoy the company of your fellow EB Now sit tight and prepare for one amusing ride.
JL: Has there been anyone special to you during your Celadon journey?
BT: Siguro </3
JL: What would you miss the most about the org and the External Affairs department?
BT: I think I'll miss the seemingly, almost never ending line up of Celadon projects It's funny how there is almost one Celadon event or project every week, which really makes every week for me fascinatingly different.
JL: What's your favorite Celadon memory?
BT: The Chinese New Year Food Festival this year! It was heart-warming to see people's enthusiasm to try (free) Chinese dishes, dishes which we cooked ourselves. I didn't really know how to fry radish cake or lumpia tikoy; I think most of us didn't have an idea how to really, but we did manage somehow It was nice cooking with fellow Celadoneans amid the wet and rainy weather.
JL: If you would describe your Celadon journey in one word, what would it be, and why?
BT: People. I have met so [many] much people in my time with Celadon—people who I've worked with, watched horror movies with, played computer games with; people who I've come to appreciate and to love. I will always be grateful for having met everyone that I did in this journey.
Leyah Dizon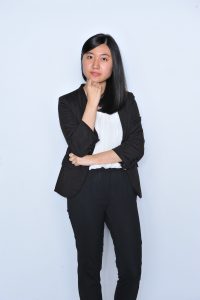 JL: You were part of DocPub last year, so why make the leap to External Affairs?
Leyah Dizon (LD): EXT provides avenues to connect with people from both inside and outside the organization. We have Alumni Gathering, Binondo Amazing Race, Paragon, REACH, AFICS and other partnership-related projects. I've always been passionate about our organization's advocacy, and I love telling people who are curious outside our organization about what Celadon does, what our advocacy is about and how everyone is welcome. Hearing about their own organizations also stirs a lot of ideas of the opportunities Celadon can have in working them and what they can also learn from us particularly in terms of our culture. It's wonderful whenever we get to work with other people and witness our members from both sides learning and growing together.
While in DocPub, I was also very drawn to EXT. I think it was a work of fate and nature how I ended up in work that turned out to be EXT as I interacted with various people. Despite my fears of coming from a different department, I realized my stronger desire to serve through EXT and see relationships happen for Celadon, so I took the "leap."
(I still love you DocPub <3)
JL: Describe your current External Affairs family.
LD: Truly EXTraordinary! There's never a dull moment with this family that's always game to share jokes, life stories and other adventures. We have comedians, romantics, artists, intellectuals and much, much more. Everyone is just very passionate, hardworking and supportive, and this is even more evident when we're working together. I feel proud of each member and very blessed to be part of this family.
JL: What would you advise those who are planning to run as External Affairs EB in the future?
LD: Be your passionate self, love what we do and always remember what we're about! Passion is always important since it gives us the drive for what we want to achieve. This drive will definitely produce something EXTraordinary when you also love what EXT does of building relationships with and for Celadon. Given that, don't forget to get acquainted with the ins and outs of not just EXT but also Celadon. As EB, you will also have the responsibility to oversee, guide and nurture. When things get a bit challenging, going back to these intrinsic values will certainly keep you grounded. There's going to be literally and figuratively a lot of trips to different places with EXT, and you'll get to meet and work with different kinds of people. It'll be work and fun in one if you let it be.
JL: Has there been anyone special to you during your Celadon journey?
LD: There have been many people who were and still are special to me in my Celadon journey. Some of them are my mentors who are now alumni, EB, or managers. They guided me and offered me different perspectives about Celadon and life. Others are the people whom I have worked with closely—my PUB (now DocPub) family, partner editor and my co-manager last year. Then, there'[re] also my co-EXT EB and EXT managers this year. I'd also like to mention my friends outside Celadon who have been very supportive. I don't think I would be where I am now without them.
JL: What's your favorite Celadon memory?
LD: My favorite Celadon memory has to be the recent Soochow Cultural Exchange. Two really important things occurred to me that time: growth and vision. It was my first time hosting an event I had arranged with [an] audience from in[side] and out[side] of Celadon. It's definitely a big leap for me because it's not something I would have thought myself able to do two years ago when I was signing up for Celadon. More than that, I had the strongest feeling as a Celadonean, EXT member and EB in that event. It was a partnership between a student organization from Taiwan and Celadon, and I saw all the participants having a great time as they interacted, learned about each other's cultures and better understood each one's own. Both the Celadon and Soochow University members there expressed their desire for another such experience in the future. Right then, I felt really fulfilled, happy and likewise…even more certain of my passion of providing and fostering such experiences that the participants and I each had. I saw the many more opportunities Celadon can have, not just with Soochow but with many other different organizations in the future.
JL: If you would describe your Celadon journey in one word, what would it be, and why?
LD: Kaleidoscopic. That is to say, it's been quite colorful, with dark and bright colors coming all together to form a particular view that's also still constantly changing. My Celadon journey has had so many ups and downs, uncertainties and certainties, and I still experience them even until now. Nevertheless, there has been significant growth, and when I look at these together and the moments I've had with my Celadon family, I'm very grateful. From member to core, manager to EB, there's been a lot of growth, and I'm sure there's still a lot of colors in store for me to find together with Celadon.
Himig, Benson and Leyah continue to provide opportunities that encourage people to think beyond themselves and to explore new experiences that help Celadoneans understand what it means to be a Chinese-Filipino today. Alongside their family of managers, the three devote themselves into building projects that are energetic, excellent, and above all else, extraordinary.
---
For other articles on the executive board, check this out:
Written by Joel Lim.
Photos by Tinoley Digital Studio.