Andrew Cua, a Management Engineering graduate of Ateneo de Manila University, is the founder of Tralulu Philippines: the very first startup company that provides a digital marketplace for tourists and local guides, aiming to provide tourism experience in the most authentic way possible.
Since it first began in May 2016, Tralulu has continued to branch out to seven Southeast Asian countries. They have had over 500 bookings helping more than 300 local guides. Andrew shares the story of his journey in becoming an advocate of change and a believer of the power of youth today.
"If we can make the world better place, the best way is to start now."
Trails of Discovery
Much of Andrew's inspirations come from his first-hand experiences with the locals in different countries. Back when Andrew was still a college student, he took up cultural classes that inspired him to see the plights and struggles of local guides by spending most of his free time travelling across different places all over the world like Vietnam, Singapore, and Malaysia. For him, there is nothing more exciting than to experience the world with his own eyes. His journey might have been for his personal luxury, but little did he know that these experiences would be able to make a difference in the lives of many.
He recounted three significant trips he took when the locals risked their lives to save the tourists. His first experience happened during his first hiking trip in Antipolo. While he was reaching the summit, he suddenly wasn't able to move anymore primarily because his feet were swollen and because he also has a phobia of heights. Not knowing what to do, he was surprised when six local guides who were in their sixties went up the mountain just to have a rescue operation for him. When he was already safe, he began asking how he could repay their kindness, but the local guides insisted that they not take any form of compensation. They even gave him free lunch and called in an ambulance to bring him to a place where he could go back home safely.
His second experience happened in Vietnam while he went through a hiking program called Fancy Van. Upon reaching the peak of the mountain, he was struck by hypothermia. When his local guide saw him, the guide immediately took his clothes off and used it to keep Andrew warm throughout the night. His body temperature went back to normal while the local guide had to bear wearing just his underwear throughout the night. Again, Andrew offered compensation but the locals kindly refused to accept it.
Finally, he went spelunking in a cave in Sagada which lasted for eight hours. When Andrew and his tourmates were on their seventh hour of spelunking, they encountered another set of travellers who were just at the start of their activity. Their local guide saw that the kerosene lamp of the other group was faulty. Out of his concern for the travellers, he voluntarily swapped the lamp with the other group to prevent any accidents from happening to the other group. In less than a minute, the lamp suddenly exploded at the top of his head and sprung up to the top of the cave. It damaged a part of his hair as the fire from the lamp passed through his head. He risked himself just to save these travellers who he did not personally know. For him, the most important thing was that everyone was completely safe from harm.
From these events he personally experienced, Andrew was able to witness just how undervalued these local guides are. Not only that, these local guides sometimes don't even have any bookings at all. Ever since then, he has been thinking of ways to be able to uplift their livelihoods and  repay their kindness for the travellers.
Beginning the Hike
During Andrew's senior year in 2015, he joined a startup competition in Malaysia called Global Startup, a global business competition where young startup entrepreneurs from all over the world would gather and meet. They would be grouped together to think of a startup idea that can solve a current social issue, and the winners will be able to get their first funding to start building the startup. He was able to pitch his idea of making a digital platform to link travellers and local guides. They focused on having an inclusive tourism so that the tourists can travel like locals—with the locals.
Because the judges were impressed with their idea, Andrew's group won the competition and was able to get their first funding to begin building their startup. However, it wasn't sufficient enough to sustain their business, so they joined and won another business competition in 2016, pitching the same idea. From these two competitions, the group was able to generate enough funds for the startup to be sustainable. This is how Andrew built Tralulu. Their advocacy was to have inclusive tourism where locals would not be forgotten in the midst of the development.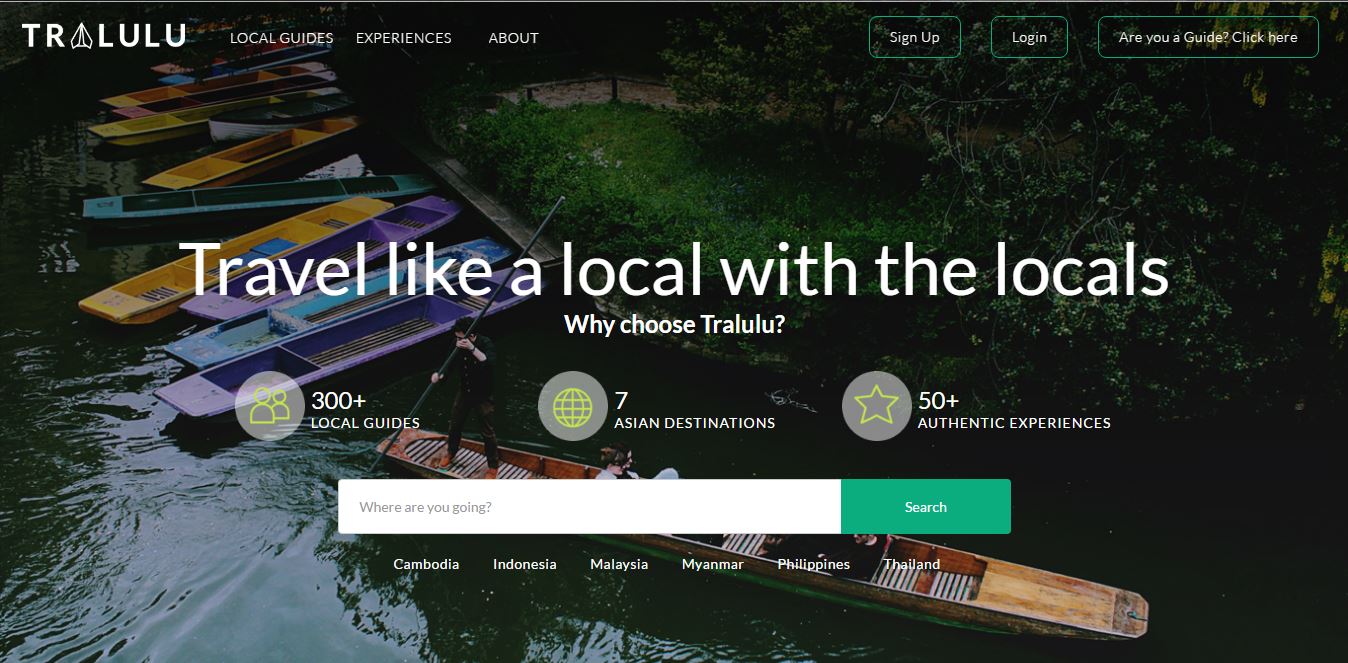 Mountains and Hills
Even if Andrew was successful in creating a startup, it was not easy to transition from being a college student to a full-time startup entrepreneur because he came from a Chinese family. Andrew didn't receive much support from his parents in the beginning. Traditional Chinese parents, like Andrew's, would encourage their children to build small-medium sized enterprises because the money generated from it is tangible, whether it's a store in Divisoria or a restaurant in Binondo, it is easy to gain monetary support from it as compared to building a startup wherein money making is not visible. Sometimes, his parents would also tell him to go corporate because it's more stable than building a startup to fulfill a vision. His parents didn't comprehend the process of running a start-up and are often paranoid regarding where their money would go when running a business in a technological platform.
Another struggle came from the nature of his college degree. After graduating in Management Engineering from Ateneo, most of his colleagues went for a corporate career. He was also offered jobs that can make a good income. During those times, he would usually contemplate and reflect in order to know what his next move should be. In the end, he chose this path to pursue his vision in spite of the many struggles and challenges he faced. Even during reunions, he was often asked about what job he has and the salary he makes. It was difficult during the first few months of operation when the business was only at the starting process because they had to cash out money to build the websites. There are even some months where they didn't have revenue, but that didn't make Andrew give up the startup industry.
Andrew said that the most difficult part in running the startup was actually choosing his business partners. The group he had during the Global Startup competition did not consist of the same people he has in his company today. Many of them have left and have chosen another path, since they believe that pursuing the startup further is a waste of time and effort. Fortunately, after a year of turnovers, Andrew is now confident with the people he is working with and believes that his group is really fueled in making their vision a reality. There are even days that the group would work all night to finish the tasks and meet the deadlines.
Summit of Change
The most important lesson Andrew learned was that resilience and grit were the most valuable attributes in running a startup. In times of struggle, one had to anchor on the vision in order to continue. Andrew and his group knew how much impact this venture would make and they would not stop until they see their vision come true. Even if they have impacted 300 local guides already, the team wouldn't stop from there. If by chance he was asked where he sees Tralulu in the next five years from now, he will say that the team's goal is to expand all over the world in order to change the tourism industry. He welcomes competitors because their ultimate purpose is to serve the local guides and to advocate inclusive tourism.
As for Andrew himself, he plans to pursue his master's degree when Tralulu can run on its own two legs. It is refreshing to see how much drive Andrew has in making his dreams come true.  As he says, "If we can make the world better place, the best way is to start now." And what a start he has made.
---
The Paragon Business Summit features startups on business innovation this March 18, 2017 in the Leong Hall Auditorium, Ateneo de Manila University. Get your tickets now at tinyurl.com/Paragon2017OrderForm. Better hurry, we only have limited tickets left!
Follow the Paragon Business Summit Facebook page for more tips and tricks on business and innovation.
Written by Arwin Lao
Tralulu can be accessed via tralulu.com