Ateneo Celadon's Chinese New Year (CNY) 2017 celebration was held as a food festival for two days. On February 1, the CNY volunteers were already setting up by the Zen Garden by 8:00 a.m. for the first day of the festival. The volunteers served a variety of Chinese dishes until 4:00 p.m. in the afternoon, and this was repeated for day two the following day.
Visitors had to first register coming into the CNY grounds. After being given a rolled paper container and chopsticks, the visitors can then proceed to the different food booths to be served the different delicacies that await.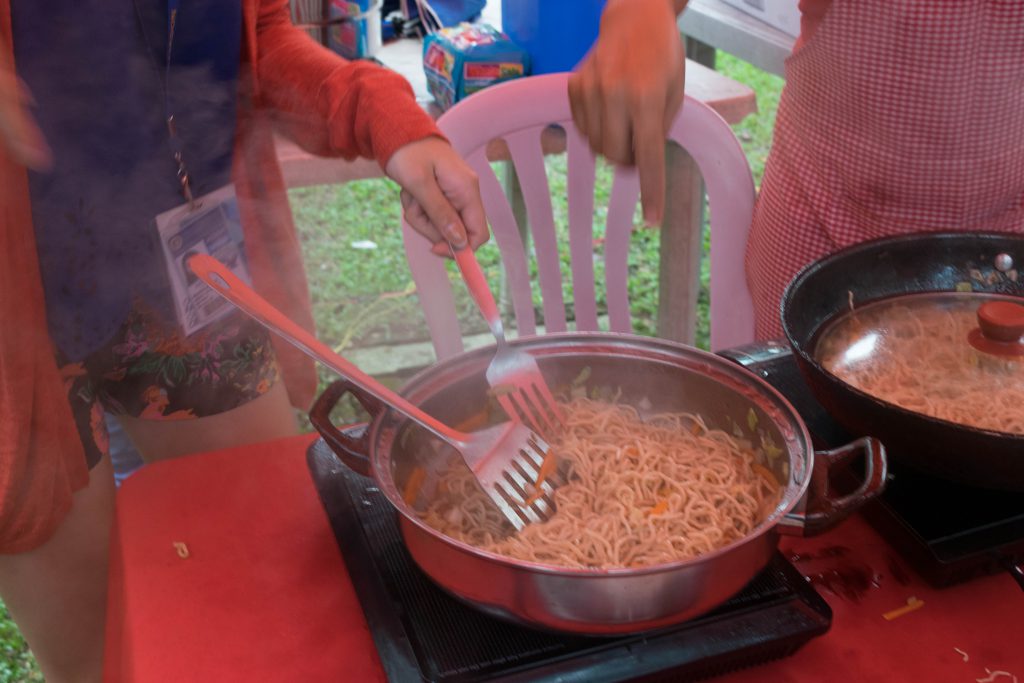 First on the menu was the stir-fry noodles. For Chinese people, noodles must be eaten on the Chinese New Year so that long life would be bestowed upon them. Apart from a long life, volunteers and core members were also aware of the long days that awaited them as they served food to the hungry and the curious.
Reminiscent of Chinese culture is the dumpling, this food item is undisputedly one of the most popular symbols of the Chinese culture. From a casual snack at a nearby Chinese restaurant or just something that is often on advertisements, this member of the dimsum category is known to many.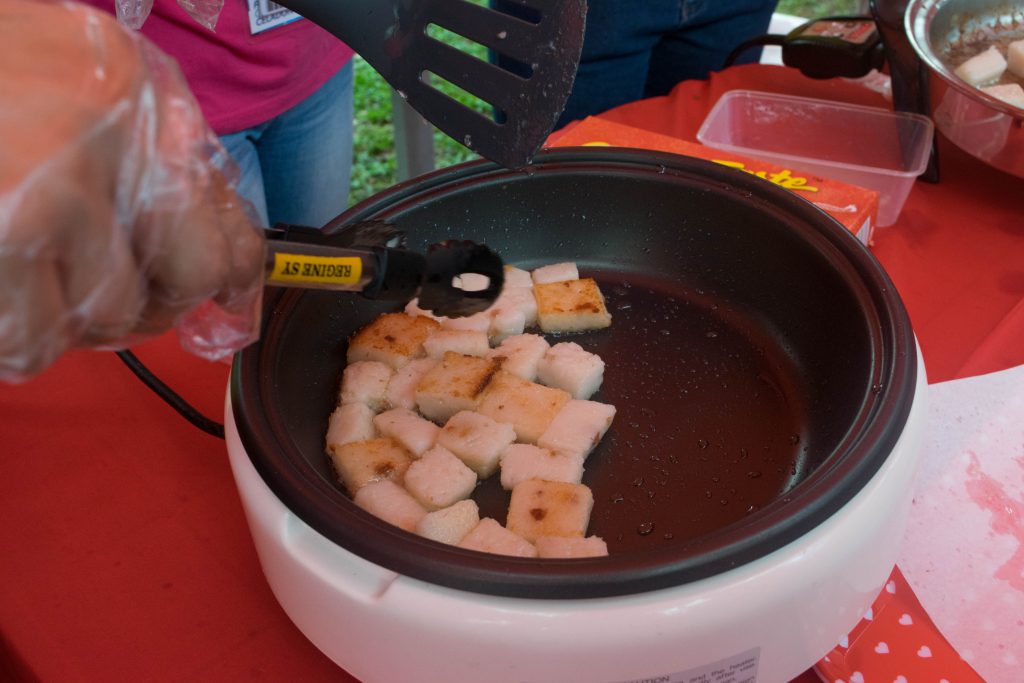 The radish cakes garnered puzzling looks from visitors wondering what the white block that fried in oil was. Visitors were later surprised at the appeal brought to their taste buds. A radish cake fresh off the pan would have a fine texture that is slightly sticky and take on the fragrance of the oil used to fry it.
Although the visitors asked for more, there was only a set serving that each was legally allowed to receive. For those looking for an excuse to eat more radish cake, it is important to keep note that this particular cake also brings with it some "luck", something the Chinese people highly value. The Chinese New Year is a show of how the Chinese community upholds its culture, with food as their means to convey it universally.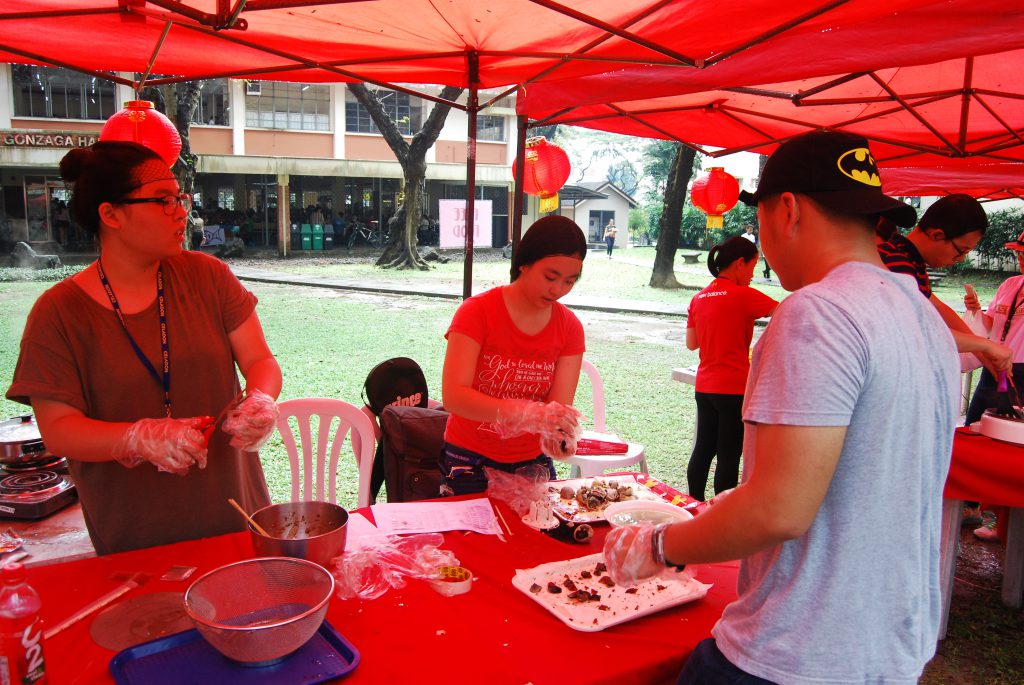 Getting people to try new things can be difficult. Getting them to try the tiny bits of the black, jelly-looking century egg even more so. People whom managed to eat with chopsticks were understandably intimidated by it. The man behind the booth smiled and said, "It's an acquired taste." The Chinese New Year food tasting's goal is hardly to cater to the Chinese-Filipinos, as they have encountered these dishes time and again already. The event was for people willing to step out of their comfort zones and take their first bite of the century egg. The century egg cooked in Zen Garden that day and the next was not mainly for the Chinese-Filipino already familiar with the dish. It was for my friend who picked up the egg for the first time and was pleasantly surprised by what he considered to be weird food.

Aside from all the food, the Dragon and Lion Dance team of Saint Jude Catholic School also made an appearance during that first day that brought a festive atmosphere to the Zen Garden and the nearby Gonzaga area.
Despite how the celebration was about introducing Chinese culture to those unfamiliar with it, the Chinese-Filipinos brought home their own lessons from the event. They've eaten these dishes almost routinely every Chinese New Year and yet it is a tradition that continues to reveal more of itself to them. A tradition whose significance the food tasting sought to flesh out and add another dimension to.
"That's not really jellyfish, it's just called that," our friend Alyssa Pontillas said, giving us pause.
"Oh I didn't know I've been eating jellyfish!" exclaimed Oswell Ang, another friend.
The act of dining on these delicacies is nothing strange to most Chinese-Filipinos and yet this Chinese New Year revealed that there is more to be learned about the routine, more to the story than what we are used to. It is a reminder that our own culture can teach us new things.
Another side to the story of this event is the efforts of the team behind it. It is not just about the inflow of guests but also about the man or woman clad in red behind the booth providing the visitors with food.
"It was nice seeing people be able to experience the Chinese-Filipino food customs," declared Dave Ong, a volunteer of the Chinese New Year team. The experience belonged to both these people. They belonged to anyone willing to give Chinese New Year a chance to teach them something new.
The Chinese New Year celebration was not just for a single group of people. It did not merely belong to Chinese-Filipinos but it did not exclude them either. The two-day event was about getting people talking. It was about having someone who has never tried radish cake drag his friend to the Zen Garden and make him explain just why Chinese-Filipinos eat tikoy on the Chinese New Year. It was about getting people to mingle and talk about their food and their culture. It was about cooking tikoy turon-style, bringing people of different cultures in one place. It was about trying new things and realizing that only in doing so can someone ever really grasp more of what they already have. It is only in wrapping slices of tikoy in spring roll wraps and throwing them in oil can someone ever really know what turon tikoy tastes like.
The Chinese New Year celebration was more than just a chance to grab a free bite. It was an opportunity for different people of different cultures and backgrounds to understand more of each other.
Written by Mark Brian Chua and Jamie Sy.
Photos by Robert Cuartero and Jerome Mejarito.