Written by Erika Ortiz.      Edited by Matthew Yuching and Denise Joaquin.
Photo Header by Archie Onglim.
Ateneo Celadon hosted a new initiative: a visit to a Home For The Aged, as part of the program REACH or Responding to Encourage Actions Towards Care and Hope, with the theme "A Journey Back Home."  This was in partnership with the Ricardo Leong Center for Chinese Studies of Ateneo de Manila University. Held on November 17, this initiative was an outreach for amas, the Chinese term for grandmothers, who were left behind by their families. It was an initiative to uphold love, affection, and a chance to communicate with the amas.
The project team and the volunteers visited the Filipino-Chinese Home for Aged Women in Valenzuela. With a line-up of activities for the amas, the volunteers, along with Chinese Studies director Ms. Jubilee Ong and moderator Ms. Ayi Manabat, aimed for a fun and loving afternoon for both the amas and the volunteers.
The day started off with a light morning exercise led by the volunteers. After the exercise, the volunteers were then grouped with the amas in a total of 5 groups. They then proceeded with a puppet-making activity.  After everyone was informed of their assigned Christmas theme, they created a short story together with the amas. They cut-out the necessary characters using the provided materials and proceeded with the skit. Volunteers then shared their group's story with everyone.
Afterwards, the volunteers had a "kwentuhan" session to get to know the amas better. The volunteers asked about where they were from, what their hobbies were, their favorite meals, their happiest moments, among others.
They also sang Chinese karaoke, which included Yue Liang Dai Biao Wo de Xin, Tian Mi Mi by Teresa Teng, Tong Hua by Guang Liang, and others. After karaoke, the program was concluded. The amas were given a bag of tokens full of shampoo, soap, biscuits, and milk, accompanied by written letters from the volunteers. The team and volunteers went home with a load of memories with the amas.
"As a first, visiting the Filipino-Chinese Home For the Aged Women has made me both excited and anxious as a project manager. I didn't exactly know how the amas would receive us, knowing that each ama has her own way of dealing with other people. In the end, what we saw were the smiles on their faces, highlighted by the knowledge of their backgrounds; these amas were left and abandoned, so it was truly humbling and heart-warming to hear how touched they were by our visit," said Patricia Sevilla, one of the project heads.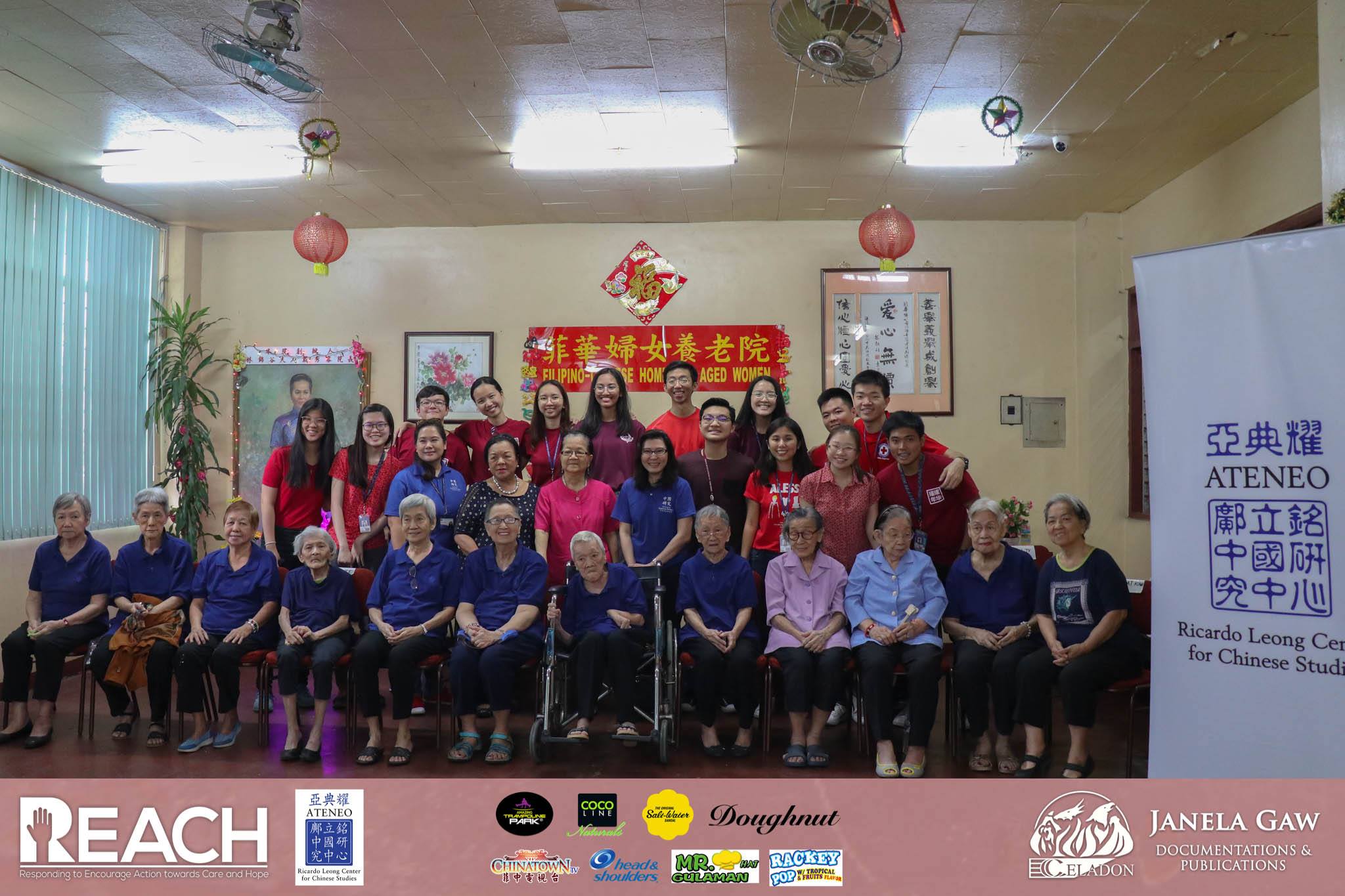 Overall, the event was successful and everyone felt fulfilled. The volunteers had a wonderful time with the amas, who were grateful for the time and affection that the volunteers have given.
Sponsors of the event include CocoLine, Mr. Gulaman, Doughnut, Head & Shoulders, Trampoline Park, Rackey Pop, Chinatown, and Salt Water.