Heartfelt.
That was the one word outgoing Vice President for Documentations and Publications Joshua Cheng used in describing Celadon Ball 2017: Reverie. And indeed, heartfelt was how Reverie ran its course in a night of unforgettable memories, good cheer, tear-jerking goodbyes and new horizons. The experience of this year's Celadon Ball can be best remembered through the eyes of budding Celadoneans and those who are preparing to depart after years with the organization, which news editors Ervin "Llobs" Llobrera and Alyssa "Yssa" Yu are trying to encapsulate in their respective commentaries.
When All Were Busy
Celadon Ball opened its doors at 6 in the evening of May 6, 2017 at the Events Venue in Oasis Manila, but core team members spent the afternoon making sure everything was in place while performers readied themselves for their performances later on in the night. By the time registration began, everything was already good to go. The lights were on, and the mood was set.
The program formally started with an opening prayer led by Sherwin Uy, one of the project heads of the event. This was followed by opening remarks from outgoing Celadon President Stephanie Sayson. Names of a few pairs that Celadoneans shipped were then announced as nominees for the award of Ball King and Queen, and everyone was given a piece of paper to place their votes for this prestigious award. There were a few games, such as Pop the Balloons and Family Feud, that followed before dinner and the performances began.
Llobs: Since I'm part of the performers for this year's Celadon Ball, I arrived earlier in the venue for practice. There, I became a witness to how much care and effort that the core team really poured into preparing the venue. When all the preparations big and small were finally put in place, the venue really had that deceptively simple yet elegantly ambient feel to it, perfect for the night's festivities. 
Yssa: Even though I always pass by Oasis, I couldn't envision how the place would look like. When I entered the venue, I was really taken away to a different place with all the decor. The place was transformed into this dream-like garden place where any group of friends would be able to have a simple but great time.
The Performances
A raffle was held first before the performances kicked off, where winners received various prizes from sponsors like Herschel bags and gift checks from White Space and John Robert Powers. First of the performers was Joshe Tiu with his signature saxophone performance of various hits. The CLDN Dance Crew followed with a dance number composed of different styles. To cap off the performances, a song and instrumental number, from Joshua Tan and siblings Sean and Sherry Gonida, entertained the crowd as everyone ate dinner.
Llobs: Being part of the CLDN Dance Crew, I can say that we really trained hard for our performance here in Ball. After all, we all just wanted to enjoy ourselves by giving it our all and most of all entertain the guests and seniors who were there to cheer us on. I'm sure that the other performers also shared this disposition and thus all the performers managed to do great and make everyone happy in the process. 
Yssa: I enjoyed all the performances because they helped set the overall mood of the event, as well as being a great showcase of talent that we actually have within Celadon.
Celadon Executive Board Induction and Senior Send Off
After dinner came the induction of the new Executive Board for the next school year. The induction ceremonies included messages and tokens from the outgoing Executive Board of the departments (including the Top 2) to the incoming, a group dance number of the new Board to One Direction's "Best Song Ever," and, to make everything official, the oath taking led by outgoing Celadon President Stephanie Sayson.
Another highlight of the ball, the senior send off, followed the induction. The seniors present were made to sit in the center of the room. Joshua Cua, the incoming Vice President for Human Resources, led the send off committee. He first announced that tokens, Celadon keychains, would be distributed to the seniors. This was followed by the revelation of an Instagram account serving as an online book composed of personal goodbyes for the seniors.
With the song "Everglow" by Coldplay playing in the background, the official goodbyes ensued. Participants and seniors clustered in the middle of the room, exchanging numerous hugs, tears and heartfelt messages. It was of no doubt the most intimate moment of the entire night.
Llobs: As an incoming Associate Vice President for DOCPUB, it was truly an honor to receive the legacy of my mentors and to stand up on that stage and take my oaths as part of the new Celadon Executive Board. My new position, and the heavy responsibilities that would come with it, finally sank its weight into me during that time and I knew that I have to do my best for the organization that already gave me so much. It was an elating experience. The send-off was really brutal for me though. This sophomore year is when I first decided to be active in Celadon. Through the process I met so so many great people especially the seniors, whose guidance have helped me find my place and calling here in the organization. Plenty of seniors became my friends and a some really held special places in my heart at the end of the year, and thus I really ended up breaking down during the send-off. It was sad, but somehow I also knew that they will have bright futures ahead because of what Celadon has managed to give to each one of them, and that they always know deep down that they have a family that they could rely on no matter what. 
Yssa: Senior send off was very emotional for me. It was a whole new feeling compared to last year when we had to send off the seniors of that school year. I was trying to keep myself composed throughout the first half, but once people started hugging and saying their goodbyes, you really can't help but cry because that's when it really sank in that I was a senior already. I won't be in school on a regular basis anymore. To add to that, I would be leaving not only the Ateneo, not only the school, but also these amazing people that I have loved and seen everyday for the past 4 years.
Epilogue
The slow dance portion followed the goodbyes, as different people got to share their moments on the dance floor, swaying to the music's rhythm.
After everyone got a chance to dance, the awarding ceremonies finally graced the stage.
Best Manager Award (per department): Isaac Cheung (HR), Jevin Hung (CORREL), Dale Chua (CUL), Jerome Mejarito (FIN), KC Soon (COMM), Alyssa Yu (DOCPUB), and Christian Tiu (EXT)

The Face of Celadon Award: Joshua Cua

Celadon Ball King and Queen: Hilton Ang and Heidy Gueverra

John Robert Powers Best Dressed Award: Geela Garcia and Joshua Tan
Clarissa Chua, incoming Celadon President, took charge of the closing remarks and brought Celadon Ball 2017 to an official close. A same day edit video of the Ball was also shown before the participants finally hit the dance floor to jam and party the rest of the long night away.
Llobs: The slow dance and the awarding was a gentle winding down from the many highlights of the night. It was very enjoyable as you get to relax and dance with your friends and cheer them on as some of them nabbed awards. A very satisfying conclusion to what was a really wonderful and enjoyable night. 
Yssa: I really appreciate the space the program gave for people to breathe after senior send off. It was truly a time to relax and to appreciate other people's company.
Perspectives from the Beholders
When asked about the goal for what they wanted the participants to feel in the Ball and whether the event managed to bring the desired effect not just for the seniors but also for the other participants, one of the project heads, Nadine Kwan Laurel, and incoming VP for HR, Joshua Cua, gave some of their insights. 
"I wanted ball to be a celebration of everyone's year in Celadon — a year of challenges, accomplishments, new friends and old. At the same time, I wanted it to be a sort of thanksgiving to the seniors who were there to guide us through our Celadon journey and who were there to show us why this was an organization worth investing in. I can only hope that throughout the night people felt the joy in celebrating the night with good friends, the wistfulness in sending the seniors off to their new adventures, and ultimately the love that was overflowing from all the members that night," commented Nadine.  
Joshua, on the meanwhile, shared,"Our goal for this year's ball was to make our members reminisce the wonderful year that we had. Moreover, it was to make people excited for the upcoming year. I believe that our project heads were able to execute the project very well, and it made the attendees appreciate their Celadon journey 16-17 and anticipate for the exciting upcoming school year with Celadon!"
Sean Lee, one of the members of the CLDN Dance Crew, also did not hesitate in sharing some of his takeaways from the Ball. "Well it was pretty great because I got to perform a dance number I choreographed, and won a bag HAHAHAHA But beyond that, it was an amazing night with good food, great performances and the best company! I also didn't expect to cry, but I did and I was crying waterfalls. And it was at that point I realized how much I loved Celadon and the people in it because I'm not an emotional person, but it happened anyway. The goodbyes were hard, but that's life and it was a great way to send off the seniors," he wistfully admitted.  
---
Missed out on Celadon Ball? Watch the Same Day Edit (SDE) Video here:
Editors' Note:
Alyssa"Yssa" Yu is a BS Legal Management senior in the Ateneo. Celadon was one of her first organizations upon entering the university, and she's been a part of the family ever since. She has experienced as much as she can in Celadon (being a part of cores, manager pools, and the EB), and she never regrets a single moment of her Celadon journey.
Ervin Llobrera, call him Ervin or Llobs whichever you would fancy, is also taking BS Legal Management. Llobs joined Celadon in his first year in the Ateneo and dedicated his writing talent to the Publications Department, where he quickly found a home. He was semi-active in Celadon during his freshman year and vowed to be more active when he got accepted as a manager for the revamped Documentations and Publications Department during his sophomore year. Aside from manager work, he also worked in core teams of various projects. He is now one of the incoming Associate Vice Presidents for DOCPUB.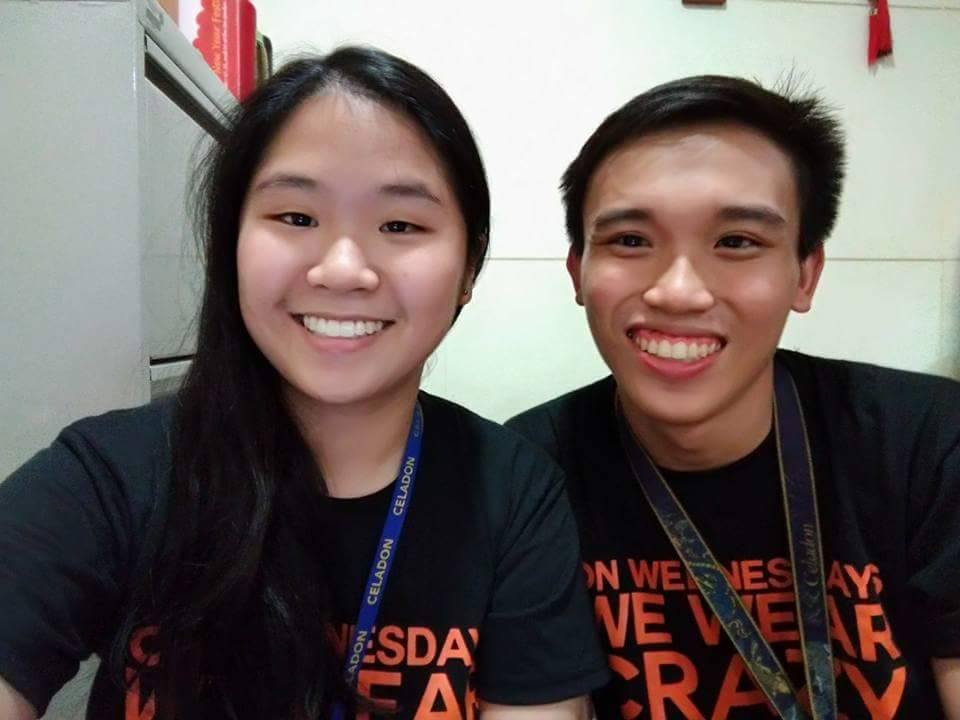 Final Message from the Editors:
Hello everyone! We are Yssa and Llobs, and after a year of events and articles, we just have a few things to say before we officially relinquish our positions.
Yssa: Being one of the oldest people in DOCPUB, I have been able to work with all these wonderful, young(er) people who I now consider a special part of my Celadon family– my DOCPUBmilya. I was doing what I loved because I got to see the growth and works of the staffers in the org. It was truly an experience being a part of DOCPUB, and a part of Celadon in general. And as I leave the university and the organization, I just want everyone to remember that anyone has a chance to grow and to love with a nurturing family like Celadon. A big thank you goes out to everyone who has been a part of my Celadon journey since day 1 'til the end. Thank you! As cheesy as it sounds: where would I be without all of you? I'll miss you Celadon. You've taught me many things about myself and about others. My experiences with you are priceless, irreplaceable. This is why I know people will take care of you. Thank you. ?
Llobs: Celadon has been my second home in college for the past two years. I am happy that I have managed to find my calling in the hearth of this home which is DOCPUB. Through DOCPUB I have managed to find a way in order to give back to the home and the family that I found within for two years now, and soon to be a third. This of course would not have been possible without the help of some of my friends and mentors who will be graduating soon, and I would like to take this opportunity to thank them for showing me the way and in accepting me in this family. Being a manager has been hard work, but it has also been fun at the same time thanks to those who are constantly been there to support me all the way, especially to my dear friends in and out of Celadon and my family and, of course, God. This year is for them, and I will try my best as an AVP of DOCPUB to make a more significant and lasting positive impact on my beloved home and family here in the Ateneo.
It has been a pleasure for both of us to have served as your News Editors for A.Y. 2016-2017. See you all sometime!
Written by Alyssa Yu and Ervin Llobrera.
Photos by Justin Ang, Matthew Yu, and Quimbe Dy.